Our La Belle & La Boeuf Franchises Burger Bar
A leader in the world of burgers, La Belle et la Boeuf offers an incomparable choice with premium ingredients.
La Belle & La Boeuf concept was created in honor of all the mothers of this world. La Belle & La Bœuf believes that women are the driving force behind humanity. She is strong, she is powerful, she is determined, she is a mother, she is: La Boeuf.
An anarchist and rebellious sports bar concept with a cause: to offer you the best Burgers and Dishes! A place to be happy while enjoying a good meal with your family or your friends.
Our Concept
A Rebel Concept
First of its kind this restaurant has broken the traditional codes. La Belle & La Boeuf is a concept recognized and appreciated for its daring, avant-garde decor, as well as for its exceptional atmosphere enhanced by unique mixed music.
Present throughout Quebec, La Belle & La Bœuf is a nostalgia-inducing rebel restaurant with an alternative rock atmosphere, delectable food for the whole family, mixology and table games!
Mixology
La Belle & La Bœuf offers an eclectic cocktail menu concocted with premium spirits by expert mixologists, as well as a large selection of locally brewed or imported beers designed to perfectly match the menu. Each drink has been specially selected for the pleasure of the customer.
Come and enjoy one of our cocktails in an alternative rock atmosphere accompanied by comfort food, whatever the season!
Our Speciality
BURGERS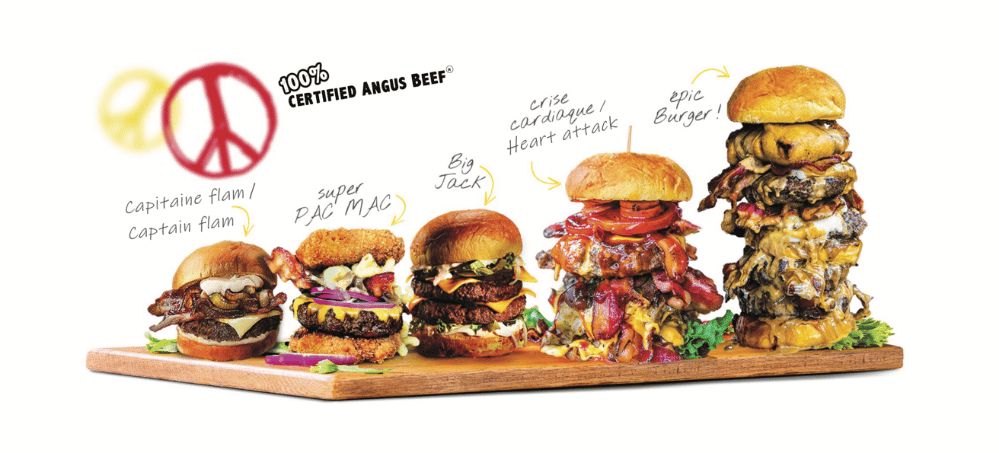 A leader in the burger world, La Belle & La Bœuf offers unparalleled and unmatched quality meat: certified 100% natural Angus beef, never frozen and hormones free. Every bite is mouth-watering and memorable. Winner of Montreal Burger Week year after year, it's easy to conclude that La Belle & La Bœuf serves the best burgers in Canada.
La Belle et La Boeuf's comfort food
Much more than just a burger bar, La Belle et la Bœuf is a place to indulge in comfort food. You'll find poutines made with B & B cheese and brown gravy but not only! Find unique topping combinations, a deluxe grilled cheese menu or the American Mac & Cheese favorite. Everything on the menu will remind you of your mom's cooking, no matter how you slice, touch or bite. For the figure-conscious, the poke bowls will bring you something new and fresh. A menu full of options for everyone to enjoy.
At La Belle & La Bœuf, everyone leaves with a full belly!