Our La Belle & La Boeuf Franchises
Burger bar
A leader in the world of burgers, La Belle et la Boeuf offers an incomparable choice of burgers with premium ingredients.
In honor of all the mothers around the world; La Belle & La Boeuf believes that women are the driving force behind all of humanity. She is strong, she is fierce, she is determined, she is a mother; she is La Boeuf. Created to inspire and influence freedom, there is no place quite like La Belle & La Boeuf.
A self-proclaimed anarchist inspired bar, a rebel with a cause. A cause driven to encourage all consumers to enjoy eating in comfort while thriving in pure happiness.
Our Concept
A Rebel Concept
The first of its kind, shattering the traditional components of a restaurant experience. Committed to remaining environmentally conscious, by protecting the ocean, and reducing plastic consumption.
Known for its bold avant-garde décor and custom mixed music playlists; La Belle & La Boeuf is a rebellious restaurant that provokes nostalgia with a rock alternative inspired ambiance, great comfort food, reminder of Mom, mixology, and table games!
Mixology
La Belle & La Bœuf offers a number eclectic cocktails made with premium spirits, created by expert mixologists as well as a selection of beers brewed both locally and internationally. Intended to pair perfectly with food offerings, every beverage served is carefully considered and chosen for the pleasure of the patron.
– An alternative rock ambiance, great comfort food
Our Speciality
BURGERS AND MORE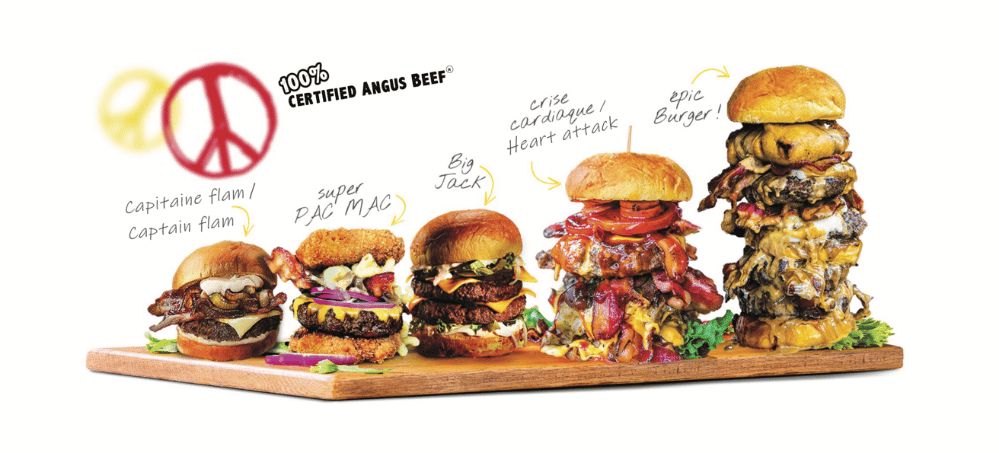 La Belle & La Boeuf offers an exceptional selection of premium ingredient burgers that are 100% Certified Angus Beef, never frozen and hormone free. Unparalleled for quality, every bite is mouthwatering and memorable. Voted year after year the winner of Montreal's Burger Week, it is easy to say that La Belle & La Boeuf offers the best burger in Canada.
Much more than a burger bar, La Belle & La Boeuf is a place to indulge in pleasure and ultimate comfort food. From poutines made with unique topping combinations to a premium grilled cheese menu or family's favorite mac & cheese. Everything on the menu is a reminder of Mom no matter how you slice, scoop, or bite into it. For the health conscious, poke bowls provide something fresh and new. A menu full of options with something for everyone, at La Belle & La Boeuf no one leaves hungry.